Potatoes are a good source of carbs in a vegan diet, but an even better plant-based source of carbohydrates and nutrients is the sweet potato. We love to explore vegan sweet potato recipes to make on the regular. We're also super excited to share with you our favs.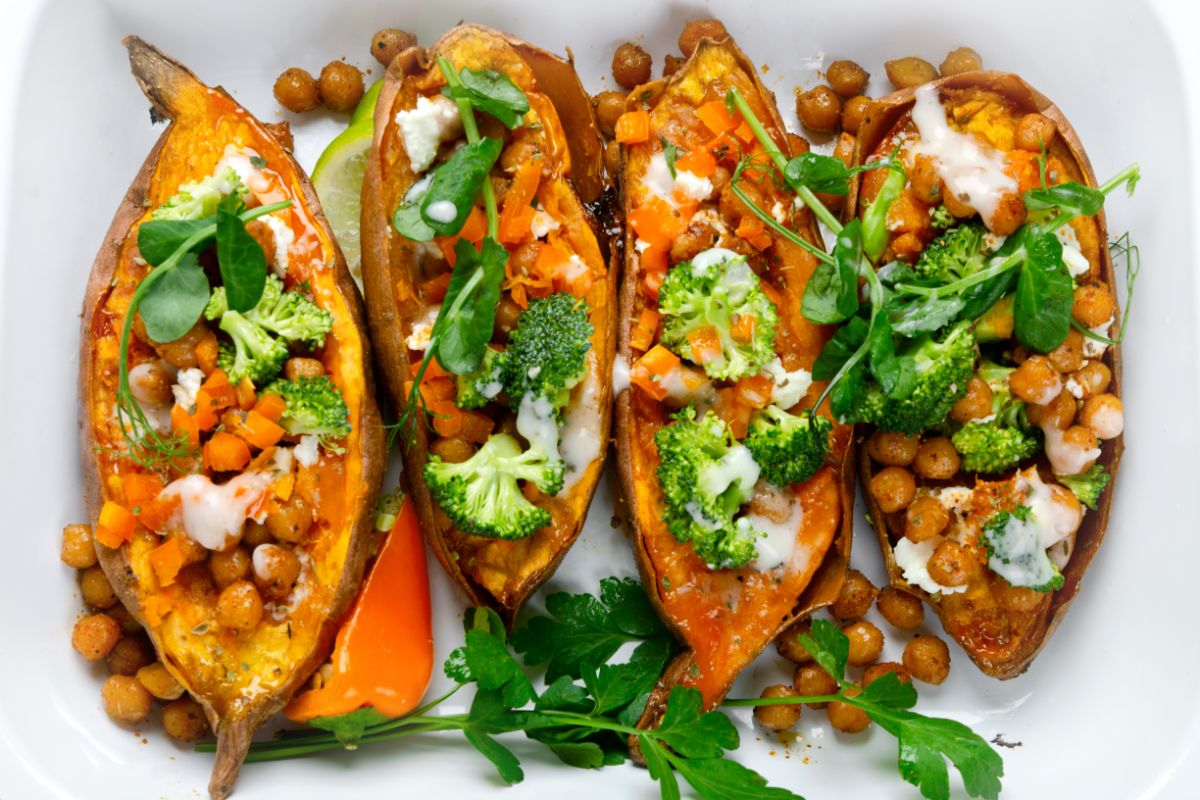 Not only can sweet potato be a great substitute for regular potato if you want to decrease your calorie intake slightly, but sweet potatoes can also be used in a wide variety of different vegan recipes!
Sweet potatoes just like all potatoes are gluten-free. We love experimenting with all gluten-free carbs. In this case, because sweet potatoes are more sweet than white potatoes, they can be incorporated into desserts and savory dishes. 
Here are the 14 best vegan sweet potato recipes to brighten your day (see also: 14 Best Vegan Breakfast Recipes To Brighten Your Day)and help you meet your nutritional goals!
These aren't just any enchiladas: they're protein-packed bean and sweet potato enchiladas, complete with a mouth-watering cilantro-orange crema. Once you've tried these, they're sure to become a staple of your plant-based diet!
The cilantro-orange crema is easy to make by combining soaked cashews, lime juice, cilantro leaves, orange zest, scallion, and water in a blender.
Then, you can set to work on the enchilada filling, which consists of sweet potato cubes, homemade enchilada sauce, and beans. 
This vegan sweet potato pie is a perfect example of how sweet potatoes can be used to create absolutely delicious plant-based desserts.
The pie crust is made from rolled oats, flaxseed meal, sunflower seed butter, and plant milk (your choice). Meanwhile, the filling consists of baked sweet potatoes, more plant milk, applesauce (unsweetened), maple syrup, nutmeg, cloves, cinnamon, and sea salt. 
While the pie is delicious on its own, you can also choose to make vegan whipped cream from aquafaba to accompany it, as linked in the recipe.
While there are plenty of complex recipes you can make using sweet potato, there's nothing wrong with going back to basics! This roasted sweet potato salad is the perfect, light vegan meal for the summer and fall months.
The main ingredients in this salad are leafy greens (you can choose your favorite), sweet potato, and chickpeas.
The chickpeas provide plenty of plant-based protein, while the sweet potato is a filling carbohydrate source. The olive oil, shallot, chipotle, garlic powder, tahini, lemon, salt, and pepitas add extra flavor. 
Hummus is one of our favorite vegan dips, and the beauty of it is that you can make it from so many different ingredients.
While you're probably familiar with the classic chickpea-based hummus, and maybe even beetroot hummus, you might not know that you can also make hummus from sweet potatoes, and it's incredible. 
You only need a few ingredients for this hummus recipe: sweet potatoes, lemon juice, cayenne pepper, sea salt, garlic, ground cumin, and tahini. Just combine the cooked sweet potato and other ingredients in a food processor, and you have hummus!
Vegan pizza can be just as delicious as dairy cheese options when you know how to make it, and this sweet potato and pesto naan pizza is a perfect example of this.
This pizza is quick and easy to make because the recipe calls for pre-made naan bread, so you don't need to spend time making the base itself.
The recommended toppings include sweet potato, vegan pesto, non-dairy cheese, spinach, red onion, basil, and walnuts, but you can get creative and add some of your favorite plant-based toppings as well. 
These baked sweet potato wedges are not only amazingly simple to make, but they're a delicious and healthy alternative to white potato fries. Luckily, they're also totally vegan-friendly, including the garlic aioli dip!
The only ingredients you need for the wedges themselves are sweet potatoes, chipotle powder (or thyme, if you prefer), mineral salt, and olive oil.
Taking just 10 minutes to prepare and 30 minutes to make, you can have a delicious side of sweet potato wedges in no more than 40 minutes.
Making stuffed sweet potato skins is a simple and tasty way to turn sweet potatoes into a satisfying vegan meal.
These sweet potatoes are stuffed with quinoa and kale, so they're high in protein as well as essential micronutrients. Plus, the skins themselves are a great source of fiber, so this is a nutritionally balanced meal, as well as a delicious one. 
You can also add carrot, bell pepper, celery, almonds, and green onion to your stuffed sweet potatoes, as well as any other greens and vegetables you enjoy. 
Stuffed sweet potatoes can be made with a variety of different fillings. The possibilities are pretty much endless, but one of our all-time favorite stuffed sweet potato recipes is this barbecue smoky jackfruit option.
The filling for these stuffed sweet potatoes consists of apple cider vinegar, cane sugar, chili powder, tomato sauce, minced garlic, ground ginger, smoked paprika, green jackfruit, cucumber, steamed lentils, red onion, and dried oregano. They are absolutely bursting with flavor. 
There are plenty of store-bought vegan burgers available these days, but if you prefer to stick to healthy options made with vegetables, this recipe for sweet potato black bean burgers will be perfect for you.
Because these burgers contain black beans, they're a good source of protein, and they also happen to be easy to make in just under 1 hour. Prep time only takes 5 minutes, so this is a very low-effort, high-reward recipe. 
All you need to do is cook your sweet potatoes before processing them along with the black beans, pumpkin seeds, olive oil, onion, and seasoning. Then bake in the oven, and you have delicious vegan burgers!
Potato gratin is a common comfort recipe that's easy to make vegan, but sweet potato gratin is even healthier and, in our opinion, more delicious!
You'll be using nutritional yeast combined with cashews and vegetable broth to create the creaminess you'd usually expect from a gratin without the dairy.
This gratin features an interesting combination of flavors, including apple cider, pear, chili powder, garlic, and fresh sage. 
The result is phenomenal, and we guarantee that this will be one of your favorite hearty dishes for the cold months of the year. 
Another dessert recipe made from sweet potatoes is this sweet potato chocolate pudding. It's delicious, indulgent, and 100% vegan.
You can use your favorite plant-based milk for this recipe, but it's best to use an unsweetened variety because you'll have plenty of sweetness coming from the maple syrup, dates, and pecans.
The cocoa powder gives the pudding a rich and chocolaty taste, while the tahini gives it a moist texture. A small amount of cinnamon and nutmeg also contributes a hint of spice to compliment the sweetness. 
Shepherd's pie is typically made with meat, but it's easy to make a delicious vegan version using sweet potato and lentils.
The sweet potato layer makes for a slightly lower-calorie alternative to white potato mash, and the non-dairy milk and vegan butter helps to get that coveted creamy consistency. 
Meanwhile, for the pie filling, you'll be using your choice of brown or green lentils, yellow onion, shallots, garlic, sage, rhyme, rosemary, mushrooms, and a variety of other vegetables, all cooked in vegetable broth.
The sherry (or balsamic vinegar) adds extra flavor, and you can even add some breadcrumbs for an enhanced texture. 
You can't go wrong with a hot bowl of tasty soup if you're looking for cold-weather vegan meals. This sweet potato and roasted red pepper soup is bursting with flavor, and it's full of essential nutrients.
This soup takes an hour and 5 minutes to make in total. Most of this is prep time, but it's definitely worth the effort. 
You'll be using vegetable broth to provide most of the liquid for the soup, but you'll also be adding plenty of extra flavor from roasted bell peppers, garlic, onions, lime juice, and red pepper flakes.
Of course, you'll also be using sweet potato for added thickness, and you can sprinkle some croutons on top to serve. 
These vegan sweet potato peanut noodles taste incredible, and they're not difficult to make, as long as you have a spiralizer. In a pinch, you can also use a mandolin or vegetable peeler.
The peanut butter gives the noodles a rich flavor and sticky texture, while the red onion, cilantro, lime juice, hot sauce, maple syrup, and garlic powder pack a punch of flavor. Just be sure to add the hot sauce in small amounts and taste as you go.
Final Thoughts 
Clearly, when it comes to vegan sweet potato recipes, there are a lot to choose from!
Whether you're in the mood for a micronutrient-packed salad, a plant-based variation on a meaty classic, or even a delicious dessert, you can count on the humble sweet potato.
We hope you enjoy experimenting with the best vegan sweet potato recipes!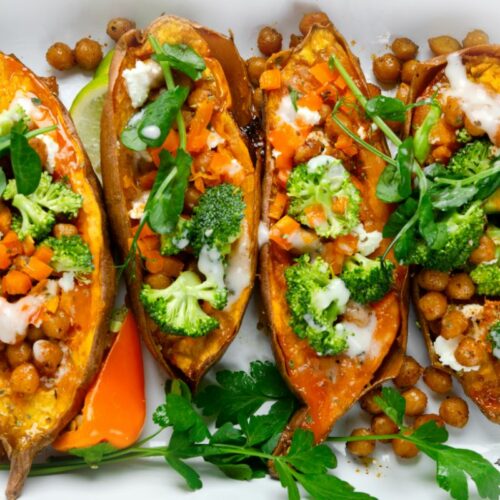 14 Best Vegan Sweet Potato Recipes To Brighten Your Day
Instructions
Pick a recipe from the list above

Click the recipe name and visit the website

Collect the ingredients and cook the food

Enjoy – don't forget to leave a review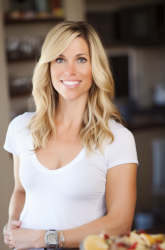 Latest posts by Jessica Moore
(see all)