Vegan gluten-free meatballs are a delicious alternative to traditional meatballs.  While they don't contain any animal products or gluten, they can still provide a similar texture and flavor using plant-based ingredients.
Ingredients for the Vegan Gluten Free Meatballs
The base of vegan and gluten-free meatballs includes
legumes like lentils
chickpeas or black beans
gluten-free bread crumbs (or gluten-free quinoa or rice)
Binders (egg substitute):
Ground flaxseeds mixed with water (flax egg)
Chia seeds mixed with water (chia egg)
Mashed potatoes
These binders help hold the meatballs together.
Flavoring for the Meatballs
Add flavor to your meatballs with ingredients like:
Minced garlic
Finely chopped onions
Dried herbs (such as oregano, basil, thyme, or rosemary)
Spices (such as smoked paprika, cumin, or chili powder)
Nutritional yeast can also be added for a cheesy and savory taste.
Texture Enhancers for the Meatballs
For a more meaty texture, you can include textured vegetable protein. TVP is a soy-based product available in granules or chunks. It can be rehydrated and added to the meatball mixture.
Baking vs. Frying Vegan and Gluten-Free Meatballs
While the recipe suggests baking the meatballs, we start out by pan-fry them before baking them for a crispier exterior. Use a non-stick skillet and cook the meatballs with a bit of oil until golden brown on all sides (about 3 minutes per side). You can also use a cast iron skillet and move from stovetop to oven without dirtying other pans. 
Sauce and Pairings for the Meatballs
Vegan and gluten-free meatballs can be served with a number of sauces such as:
Marinara sauce

Creamy vegan sauce

Sweet and sour sauce

Barbecue sauce

For the marinara and alfredo sauce, you can continue to cook the meatballs in the sauce to achieve the most flavor and perfect consistency.

For the sweet and sour sauce and barbeque sauce, you can brush on after pan frying then bake for a golden crispy flavorful vegan meatball.
Consider pairing them with gluten-free pasta, zucchini noodles, mashed potatoes, or in a sandwich or wrap with gluten-free bread.
Freezing and Storage Vegan and Gluten Free Meatballs
If you have leftovers or want to make a larger batch, you can freeze the cooked meatballs for future use. Let them cool completely, then transfer them to a freezer-safe container or bag. They can be stored in the freezer for up to 3 months. Thaw them in the refrigerator before reheating, or place them frozen in your favorite sauce and cook on low until the meatballs are completely heated through.
Conclusion
You can use legumes, chic peas, quinoa, or rice as the base for vegan and gluten-free meatballs.
A binding alternative to eggs would be flax or chia seeds mixed with water or mashed potatoes.
TVP added will give a more meaty texture. 
Pair with your favorite marinara, bbq, or other yummy sauce of choice.
Store leftovers for up to 3 months in the freezer.
Remember to check all ingredients and ensure they are labeled vegan and gluten-free, as some products may contain hidden sources of gluten or animal-derived ingredients. 
Looking for more Vegan  Recipes?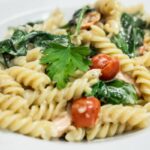 Looking for more Gluten-Free Recipes?
11 Best Gluten-Free Carbs (Plus Easy Recipes) - Delighted Meals
If you're following a gluten-free carbs lifestyle, finding healthy and delicious gluten-free options can be challenging. We have you covered.
Check out the recipes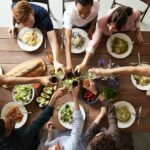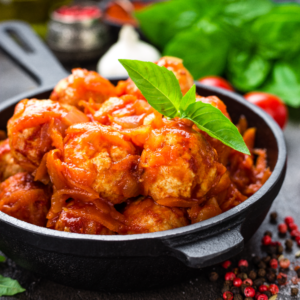 Vegan Meatballs (Gluten Free)
Vegan Meatballs recipe is a delightful option for those seeking a wholesome, flavorful, and gluten free meal.
Ingredients
1

cup

cooked quinoa

1

can

15 ounces black beans, drained and rinsed

1

small onion

finely chopped

2

cloves

garlic

minced

1

tablespoon

ground flaxseed

3

tablespoons

water

2

tablespoons

nutritional yeast

1

tablespoon

tomato paste

1

teaspoon

dried basil

1

teaspoon

dried oregano

½

teaspoon

smoked paprika

Salt and pepper to taste

2

tablespoons

olive oil

for frying
Instructions
Preheat your oven to 375°F (190°C).

In a small bowl, combine ground flaxseed and water. Stir well and let it sit for a few minutes to thicken and form a gel-like consistency.

In a separate large mixing bowl, mash the beans with a fork or potato masher until mostly smooth.

Add flaxseed mixture, cooked quinoa, chopped onion, minced garlic, nutritional yeast, tomato paste, dried basil, dried oregano, smoked paprika, salt, and pepper to the bowl. Mix well until all the ingredients are combined.

Shape the mixture into small meatballs, about 1-2 inches in diameter, and place them on a baking sheet lined with parchment paper.

Heat olive oil in a skillet over medium heat.

Add the meatballs to the skillet and cook for about 2-3 minutes on each side until they are browned and slightly crispy.

Transfer the partially cooked meatballs back to the baking sheet and bake in the preheated oven for about 15-20 minutes, or until they are firm and cooked through.

Serve the vegan and gluten-free meatballs with your favorite pasta and marinara sauce.
Nutrition
Serving:
4
g
Calories:
161
kcal
Carbohydrates:
17
g
Protein:
5
g
Fat:
9
g
Saturated Fat:
1
g
Polyunsaturated Fat:
2
g
Monounsaturated Fat:
6
g
Sodium:
38
mg
Potassium:
274
mg
Fiber:
4
g
Sugar:
2
g
Vitamin A:
197
IU
Vitamin C:
3
mg
Calcium:
37
mg
Iron:
2
mg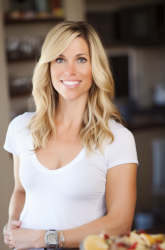 Latest posts by Jenna Hansen
(see all)