If you're a fan of both bananas and pancakes, this recipe is the perfect combination for you. Indulge in the fluffy and flavorful goodness of these pancakes, which are not only vegan and gluten-free but also packed with natural sweetness and nutritional benefits.
Easy Healthy Vegan Pancakes
These fluffy hot cakes are incredibly easy to make and will leave you craving more. With simple, wholesome ingredients, you can enjoy a stack of these golden pancakes.
Fluffy Vegan Pancake Ingredients and Instructions
Here is the list of ingredients and instructions to make the perfect vegan pancake:
Ingredients:
2 ripe bananas, mashed
1 ½ cups gluten-free flour blend (rice flour, almond flour, tapioca flour, and potato starch)
2 teaspoons baking powder
1 tablespoon coconut sugar or maple syrup
1 ¼ cups almond milk (oat milk or any plant-based milk of your choice)
1 tablespoon ground flax or chia seeds mixed with 3 tablespoons of water
1 teaspoon pure vanilla extract
Pinch of salt
Coconut oil or vegan butter for cooking
Instructions:
In a large mixing bowl, combine the mashed bananas, gluten-free flour blend, baking powder, coconut sugar or maple syrup, almond milk, flax or chia egg, vanilla extract, and salt. Stir until well combined, ensuring there are no lumps.
Using a non-stick pan c melted coconut oil by placing in the pan on medium heat. You can also add a small amount of vegan butter to prevent sticking.
Pour a portion of the batter onto the pan, using approximately ¼ cup for each pancake. Cook until bubbles form on the surface, then carefully flip the pancakes using a spatula. Continue cooking for another minute or two until golden brown.
Repeat the process with the remaining batter, adding more oil or vegan butter to the pan as needed.
Serve your vegan banana pancakes with your favorite toppings such as sliced bananas, crushed nuts, a drizzle of maple syrup, or a dollop of dairy-free yogurt. Enjoy the delightful combination of flavors!
How To Make Pancakes Without Eggs
By using flax or chia you can create delicious egg-free pancakes. It will help create the same binding effect in your pancakes while keeping them completely vegan. The ripe bananas also contribute to the moisture and binding properties of the batter. This will help create fluffy pancakes without the need for eggs.
What Makes These Vegan Pancakes So Good?
There are so many reasons for these vegan pancakes to taste so good.
Natural Sweetness
The sweetness of the bananas enhances the overall flavor profile and creates a delightful taste. The maple syrup also helps create a naturally sweet taste that is so yummy.
Moisture
The mashed bananas add moisture to the pancake batter, giving a softer and more tender texture. This moisture helps prevent the pancakes from becoming dry and adds an extra layer of richness.
Nutritional Benefits
Bananas are rich in potassium, dietary fiber, and essential vitamins. They provide natural energy and help keep you feeling satisfied and fueled throughout the day.
Inclusivity
They are free from animal products, making them a compassionate choice for vegans, and they are also gluten-free, accommodating those with gluten sensitivities or celiac disease.
Pancake Variations
Vegan pancakes offer more than just a delicious breakfast option. Here are a few ideas to enhance your pancake experience:
Flavorful Twists:
Sprinkle ground cinnamon (a must in our house) or a pinch of nutmeg into the batter.
Add a handful of dairy-free chocolate chips or chopped nuts.
Mix blueberries into the batter to create light and fluffy blueberry pancakes.
Nutritional Boosts:
Add a tablespoon of ground flaxseeds or chia seeds into the batter for a boost of omega-3 fatty acids and fiber.
Blend in a handful of spinach for an extra nutrient punch, making these pancakes a green delight. This is a great way to add veggies for those picky eaters.
Tasty Toppings:
Drizzle some almond butter or peanut butter over your pancakes. Yum!
Top with fresh berries, such as sliced strawberries or blueberries.
Conclusion:
Vegan and gluten-free pancakes are a naturally sweet and flavorful breakfast option. Feel free to experiment with different toppings, flavors, and add-ins to make these pancakes your own. They are not only a treat for your taste buds but also a compassionate choice that supports a vegan and gluten-free lifestyle.
Looking for more vegan recipes?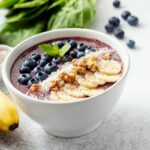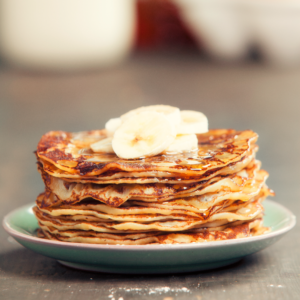 Vegan Pancakes (Gluten Free)
Ingredients
1

ripe banana

mashed

1

cup

gluten-free all-purpose flour

1

tablespoon

ground flaxseed

1

tablespoon

maple syrup

or any other liquid sweetener of your choice

1

teaspoon

baking powder

1/2

teaspoon

ground cinnamon

1/2

teaspoon

vanilla extract

3/4

cup

non-dairy milk

such as almond milk or oat milk

Coconut oil or cooking spray for greasing the pan
Instructions
In a mixing bowl, combine the mashed banana, gluten-free flour, ground flaxseed, maple syrup, baking powder, ground cinnamon, and vanilla extract. Mix well until all ingredients are combined.

Gradually add the non-dairy milk, stirring continuously, until you achieve a smooth consistency. If the batter is too thick, add a little more milk. If it's too runny, add a little more flour.

Let the batter sit for a few minutes to thicken slightly.

Heat a non-stick frying pan or griddle over medium heat and lightly grease it with coconut oil or cooking spray.

Pour approximately 1/4 cup of the batter onto the heated pan for each pancake. You can adjust the size according to your preference.

Cook the pancakes for 2-3 minutes on one side, until bubbles form on the surface, then flip them and cook for another 2-3 minutes on the other side, until golden brown.

Continue cooking the remaining batter in the same way until all the pancakes are cooked.

Serve the gluten-free vegan banana pancakes warm, topped with sliced bananas, berries, maple syrup, or any other desired toppings.
Notes
You can also add additional ingredients such as chopped nuts, chocolate chips, or blueberries to the batter before cooking for added texture and flavor.
Nutrition
Serving:
2
g
Calories:
686
kcal
Carbohydrates:
138
g
Protein:
20
g
Fat:
11
g
Saturated Fat:
1
g
Polyunsaturated Fat:
5
g
Monounsaturated Fat:
2
g
Sodium:
518
mg
Potassium:
782
mg
Fiber:
18
g
Sugar:
35
g
Vitamin A:
774
IU
Vitamin C:
23
mg
Calcium:
619
mg
Iron:
6
mg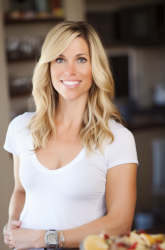 Latest posts by Jessica Moore
(see all)