Being vegan means you can't eat any animal products, while following a ketogenic diet means you have to prioritize fat sources in your diet and minimize how many carbs you eat in a day.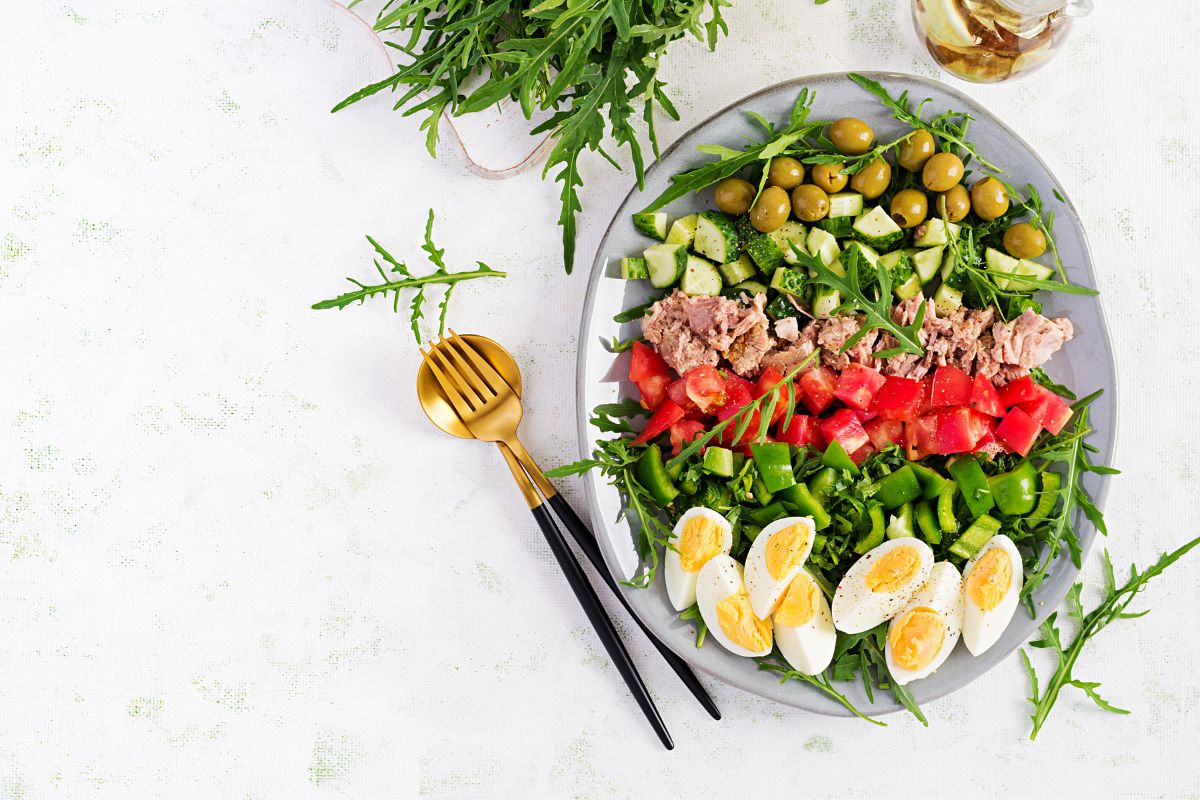 Trying to eat both vegan and keto can be easier said than done because there are so many foods you need to avoid, but that doesn't mean it's not possible!
In today's guide, we will be sharing the 14 best vegan keto recipes you should add to your personal cookbook to help you eat a high-fat, low-carb, plant-based diet.
Just because wheat pasta is off the table on a keto diet doesn't mean you can't find creative ways to enjoy your favorite pasta dishes. For example, this zucchini pasta Alfredo recipe is both keto and vegan-friendly.
You will need a spiralizer or a similar cutting tool to turn your zucchini into vegetable noodles. Zucchini is fairly low-carb, so it's easy to incorporate into a keto diet.
The Alfredo sauce, meanwhile, is made with nutritional yeast and cashews rather than dairy products, so it's suitable for a plant-based diet.
A perfect example of how you can still indulge in your favorite sweet treats on a vegan keto diet is this chaffle waffle recipe.
The waffle is made from water, flaxseed meal, dairy-free cream and mozzarella cheese, coconut flour, and salt, so there are no dairy products involved, and very few carbohydrates.
Plus, the flaxseeds and cheese alternatives help to boost the fat content of the chaffle waffle, making it easier to hit your daily fat goals.
Limiting yourself to only 50 grams of carbohydrates per day might have you doubting whether vegetable soup is a good choice, but this broccoli almond soup is not only vegan, but keto-friendly.
Almonds are full of healthy fats that will contribute to your daily fat intake. Meanwhile, although broccoli does contain carbohydrates, it's also quite high-protein for a leafy green vegetable.
The coconut oil also adds to this soup's fat content, so overall, it's perfect for a vegan keto diet.
If you're vegan and keto, you should be looking at tofu as one of your primary protein sources.
Not only is it packed with protein, but it contains healthy fats and very few carbohydrates. When combined with some of your favorite lower-carb vegetables, tofu makes for incredible skewers.
The vegetables recommended by this recipe include zucchini, bell pepper, cherry tomatoes, and onions.
That's because these vegetables have a high water content, meaning they aren't as carb-heavy as some other vegetables.
If you're in the mood for a sweet snack or a delicious dessert, these peanut butter cups are vegan and keto-friendly, so you can tuck in without worrying about compromising your diet.
Because this recipe calls for raw cacao powder, the chocolate component is heart-healthy and mainly provides healthy fats rather than a lot of sugar.
Meanwhile, peanut butter is an excellent plant-based source of fat, also providing some protein. The only other ingredients are salt, cacao butter, and stevia, so there's nothing non-vegan or high-carb to fret about.
Lasagna is generally not a good choice for a vegan keto diet. While you can make vegan lasagna, this usually still involves pasta sheets, which are high in carbohydrates. However, these spaghetti squash lasagna bowls are a great alternative.
This recipe involves filling hollowed-out spaghetti squash with some low-carb vegetables and sources of vegan fat, such as cashew ricotta, cashew Parmesan, and olive oil.
It tastes pretty much exactly like lasagna, except you don't have all the extra carbs from the pasta.
Tacos can be a tricky meal to make vegan and keto because you can't include any meat, and you want to keep the carb content as low as possible. Luckily, this recipe for keto cauliflower tacos meets all of those criteria.
Instead of meat, you'll be using roasted cauliflower, which is incredibly tasty thanks to the combination of spices (paprika, cumin, and chili) all mixed into the olive oil with some lime juice.
To increase the fat content of the tacos, you'll be making your own avocado cream, and you can lower the overall carbs by using grain-free tortillas.
Here's another vegan and keto-friendly recipe based around tofu. These andouille tofu sausages will make sure you get your protein for the day, and they're low-carb as well as decently high in fat.
This recipe requires few ingredients. The main one is tofu, which should be extra-firm. Apart from that, you just need water, soy sauce, nutritional yeast, wheat gluten, and some seasonings.
You could also use chickpeas instead of tofu if you want to minimize the amount of soy you rely on for protein as a vegan.
Steak would usually fit perfectly in a keto diet, because it's high in both fat and protein. But what should you do if you're vegan? Follow this recipe for air fryer mushroom steak!
Mushrooms are not particularly high in carbs, but they are a decent source of protein for a plant-based diet. Apart from your mushrooms, you just need olive oil, soy sauce, salt, and garlic purée to make your steaks.
When coated in the other ingredients, the mushrooms taste surprisingly meaty, and it only takes a few minutes to achieve the perfect tender texture.
Don't worry – being keto and vegan doesn't mean you can't eat pizza! You just need to learn how to lower the carbs you'd usually find in a serving of cheesy pizza, which this recipe does perfectly.
Instead of your usual carb-heavy pizza base, this recipe uses zucchini to make the pizza crust(see also: 2 Ingredient Pizza Dough (I Swear!) & 2 Pizza Recipes).
Grating the zucchini and adding psyllium husk powder, nutritional yeast, sunflower seeds, Italian seasoning and salt creates a crispy and tasty pizza base that is higher in fat than carbs.
You'll probably be avoiding flour-based wraps on a keto diet because of all the carbs, but you can still enjoy all your favorite wrap fillings using lettuce as a substitute. This recipe for keto lettuce wraps is protein-packed and contains plenty of micronutrients.
You'll be using tofu to create the vegan meat substitute for the filling (extra-firm tofu is best). Your wraps will also have plenty of flavor thanks to the onion, tamari, garlic, almonds, and rice vinegar.
Butter lettuce is recommended by the recipe for the wraps themselves, but you could also use iceberg lettuce or romaine.
Chili is a vegan staple dish because it's so easy to make without meat. Even though veggie chili usually contains a lot of carbs from beans, this recipe makes it keto-friendly as well.
This tomato-based chili is based around low-carb vegetables such as celery, onion, and bell pepper. It also contains a lot of plant-based meat, and you can use any brand you prefer.
The spice mix gives the vegan keto chili an authentic flavor, and we especially love the smokiness that comes from the use of paprika. You also have the option to add liquid aminos if you don't want to use any soy in the recipe.
These keto seed crackers are vegan-friendly, and they're the perfect snack for when you want a boost of healthy fats in the middle of the day.
Of course, because these crackers have a good surface area, you can also top them with your favorite vegan, keto-friendly spreads and dips, such as guacamole.
There are a lot of different seeds in this recipe, including sunflower seeds, chia seeds, sesame seeds, and pumpkin seeds. The seeds are held together with coconut oil, and you'll also be adding some garlic powder, onion powder, and sea salt for flavoring.
This pumpkin pie chia pudding is the perfect dessert if you're trying to eat plant-based while staying in a state of ketosis. It's high-fat, low-carb, and completely free of animal products.
You don't need many ingredients to make this dessert from scratch. The main one is pumpkin purée, and you'll also be using full-fat coconut milk, which contributes most of the fat in the recipe along with the chia seeds.
Vanilla extract, maple syrup, and pumpkin pie spice contribute the spicy sweetness, with just a hint of salt coming through from the sea salt.
You can add extra toppings, as long as they aren't high in carbs. For example, yogurt, granola, whipped cream, and your favorite chopped nuts are all great options, as the recipe suggests.
Final Thoughts
Being vegan and eating keto at the same time doesn't have to be as difficult as you think!
As long as you remember to prioritize non-dairy sources of fat and stick to lower-carb vegetables in smaller quantities, you can enjoy a delicious and balanced diet that ticks all your nutritional boxes.
We hope these 14 amazing vegan keto recipes have shown you how varied and tasty keto-friendly vegan food can be!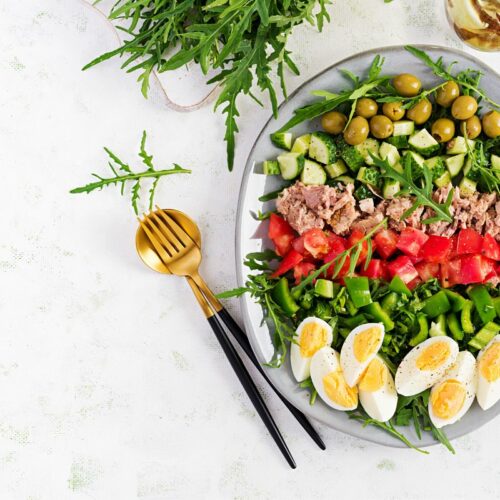 14 Best Vegan Keto Recipes To Brighten Your Day
Instructions
Click the recipe name and visit the website

Collect the ingredients and the food

Enjoy – don't forget to leave a review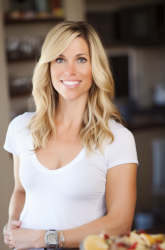 Latest posts by Jessica Moore
(see all)