Over the last few years, the humble salad has managed to gain a bit of a bad reputation. Add veganism into the mix and some people won't even go near it!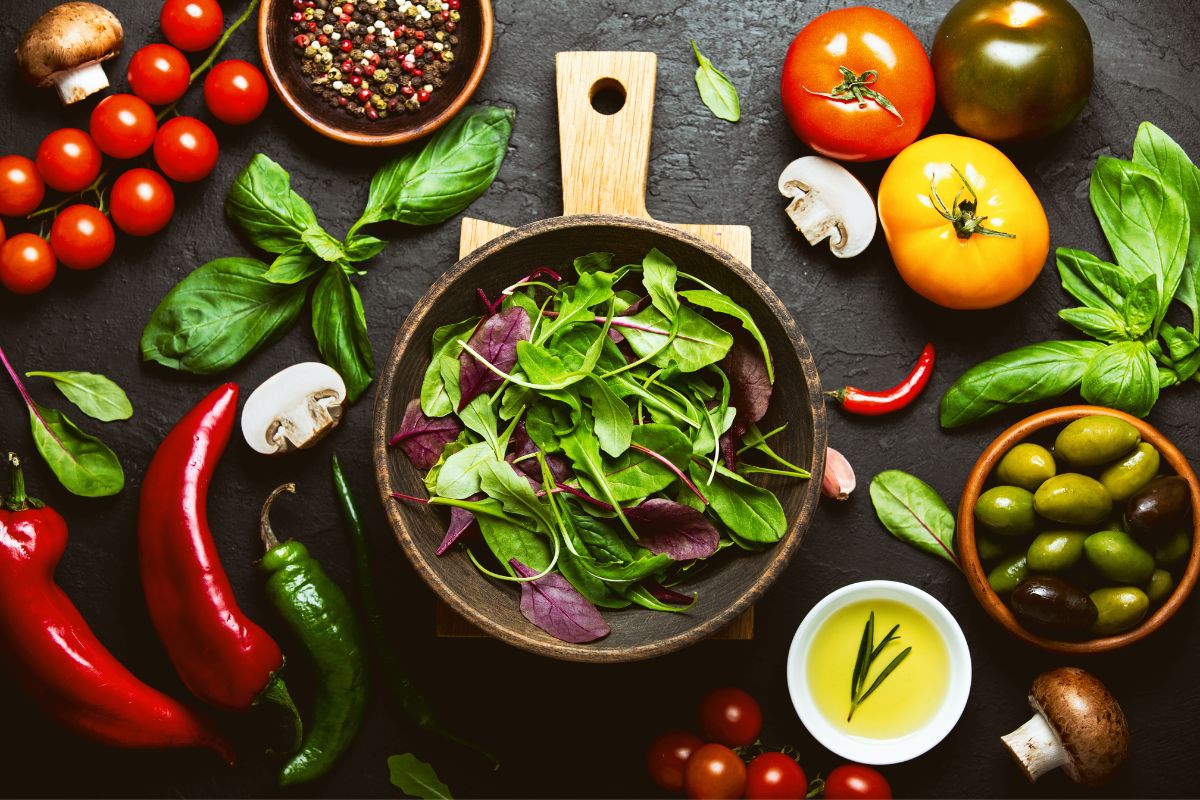 However, they simply haven't tried one of these delicious vegan salads before, have they?
Salads don't have to be boring and flavorless – when it comes to delicious salads, the possibilities are endless.
The result is a wonderful salad that is not only delicious but incredibly healthy, too – providing you with all those beneficial vitamins and minerals.
With this in mind, this article will explore all the best vegan salads to brighten (see also: 15 Best Vegan Pasta Recipes To Brighten Your Day)up your day!
Let's get straight into it.
This vegan chickpea shawarma salad is packed with delicious nutrition and flavor. It is a hearty plant-based meal that the whole family is sure to enjoy.
The best part? The recipe is sugar-free, gluten-free, and easily customizable.
If you're unfamiliar with Shawarma, it is a Middle Eastern preparation of meat, including mutton, lamb, or beef, which are cut into thin slices and stacked using a vertical rotisserie.
Shawarma is traditionally topped with additional ingredients, including tahini, tabouleh, pickles, pita, and hummus.
However, instead of using animal products for this Shawarma salad, this recipe uses chickpeas.
In this recipe, you'll find shawarma chickpeas, tons of veggies, pickled red onions, pita, and tahini lemon dressing.
The result is a flavor-packed meal that will provide you with all the nutrients to power you through your day.
This is a colorful salad featuring sliced pear, kale, and the star of the show: pomegranates. Thanks to the fusion of yellow, green, white, and magenta – you'll be mesmerized by this salad.
Plus, the homemade apple balsamic vinaigrette provides some magical zing to the dish. With one bite, you'll no longer be staring at all the colors but devouring them – yum!
Here, shredded Lacinato kale is tossed into a tangy apple cider, balsamic, garlic, and maple dressing.
This is then topped with pomegranate arils, sliced pear, hemp, pepita, large flaked coconut, and black sesame seeds.
When the cold winters leave you feeling dull, toss some vibrant colors and nutrients into your life – you'll be feeling refreshed and uplifted in no time.
If you're looking for the best BBQ side, then you can't go wrong with this Mexican street corn salad with chipotle dressing. It is tangy, spicy, and super simple to make.
Plus, it is completely gluten-free and vegan!
This recipe is an easy version of the Mexican street corn known as Elote. This is a popular dish in Mexico sold by street vendors.
In addition, it is a common staple at markets and festivals in Mexico. Essentially, all it is is roasted or boiled corn on the cob which is then served with a combination of spices, mayonnaise, cheese, and lime juice.
Therefore, this salad is simply a taste of the immensely popular Elote. The recipe itself calls for many of the same ingredients, however, they are all tossed into a bowl of salad.
While this recipe is short on ingredients, you'll be rewarded with tons of energy and nutrients. Here, roasted beets, kale, and lentils are combined for a delicious salad.
The bulk of the meal is the result of a combination of nuts, beets, and lentils – all of which are a great source of protein.
Plus, thanks to the added greens, you'll be getting all the antioxidants you need. Although, what brings everything together is the vegan salad dressing.
This is made up using a tangy lemon-tahini sauce – it could be argued as the star of the show.
With no more than ten ingredients, this is the ultimate salad if you're looking for both nutrition and taste – perfect for those with a busy day ahead of them.
This vegan BLT salad features tempeh bacon, homemade croutons, and a drizzling of simple yogurt-based ranch dressing.
The first step is to make tempeh bacon and vegan croutons. However, don't worry, this recipe is easier to whip together than you may think.
That said, if you're short on time, you can get away with store-bought tempeh bacon and croutons, too – the result is just as delicious.
However, the star of the show, here, is the dressing. It is creamy, flavorful, and tastes exactly like ranch dressing, although vegan!
Plus, it is also super simple to make – you don't need any special equipment or techniques.
Instead of blending cashews, all you have to do is reach for your vegan yogurt which adds tons of creaminess and tanginess that ranch is known for.
Thanks to the dill and fresh parsley, you'll be provided with plenty of herbaceous flavors that perfectly complement all the other ingredients in the recipe.
This vegan rainbow glass noodle crunch salad with chile-lime vinaigrette contains everything a delicious salad needs.
Here, you'll find all things crunchiness, delicious flavors, vibrant colors, nourishment, and an enjoyable eating experience.
In this recipe, glass noodles are tossed with shredded cabbage, daikon, scallions, bell peppers, and cilantro which is then topped with a spicy, tangy vinaigrette.
Perhaps it's the appealing rainbow of colors or the tangy dressing that makes this salad completely irresistible.
Whatever the reason, one thing is for sure – this is sure to become your next favorite salad.
The deliciously crunchy broccoli salad is vegan, dairy-free, and oil-free. Perfect as a warm weather side and for a potluck or picnic.
With summer comes warm weather and time spent outdoors. Therefore, you need the right foods to accommodate such changes.
This salad is exactly what you need. It features a colorful blend of vegetables, creamy dressing, and chewy dried fruits – it is sure to be a hit, whether they are plant-based or not.
Here, all you need is 8 ingredients for a classic and satisfying salad. It is completely oil-free, sugar-free, and dairy-free.
The best part? It is super simple to whip together. All you need to do is chop all your veggies, mix the dressing, and toss them together with some sunflower seeds and dried cranberries.
So simple yet so delicious!
This simple balsamic pasta salad features arugula, fresh cherry tomatoes, and delicious basil in a simple vinaigrette. It is vegan and gluten-free and can be served as a light meal or a side dish.
If you love simple pasta, then this recipe is sure to become one of your favorites. Despite being simple, it is packed with complex flavors.
Plus, you don't need many ingredients or have to spend a lot of time in the kitchen, either. In about 20 minutes, you'll have this salad whipped up.
The longest part is boiling the pasta, then, all you have to do is mix everything together.
While the pasta is boiling, you can make a start on the simple balsamic dressing. This consists of balsamic vinegar, olive oil, salt & pepper, and basil.
Using your dressing, coat your cherry tomatoes and allow them to marinate in the fridge until you have finished preparing your pasta.
Once done, all you have to do is throw everything together in a big bowl and serve!
This recipe swaps out couscous for some delicious quinoa to make a recipe that is gluten-free and delicious.
The start of the show here is the harissa pasta – this adds tons of flavor and spice to the roasted vegetables.
If you love everything to do with Moroccan flavor, then this is sure to become your go-to recipe. If you're looking for some added protein, consider adding chickpeas to the mix.
The best part about this recipe is that it is super simple to whip together, plus, you get a few meals out of it, too.
You can serve yourself a portion while it is still piping hot and then put it in the fridge to be eaten throughout the week as lunches or dinners. It is delicious when eaten hot and cold!
For lunch, you could consider quartering this recipe for the ideal serving size, however, if you're hungry, you could even manage to eat half a batch.
Since it is so healthy, there are no guilt feelings.
Final Thoughts
Salads have come a long way from being boring and flavorless. Instead, you're offered vibrant and flavorful creations that not only taste delicious but look amazing, too.
Thanks to these recipes, you're sure to get all the vitamins and minerals your body needs – helping you to power yourself through the day.
From vegan BLT salads and broccoli salads to shawarma salads and glass noodle salads – there is something for everyone.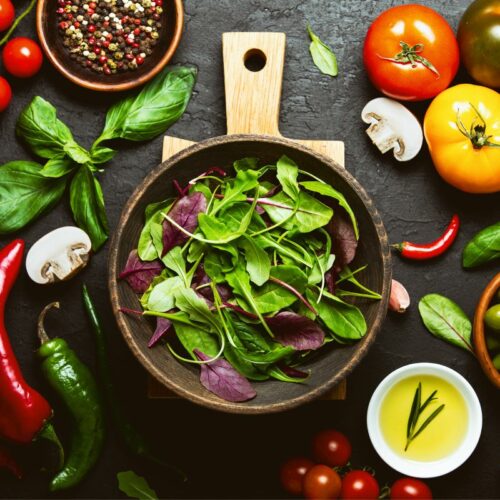 9 Best Vegan Salad Recipes To Brighten Your Day
Instructions
Click the recipe name and visit the website

Collect the ingredients and the food

Enjoy – don't forget to leave a review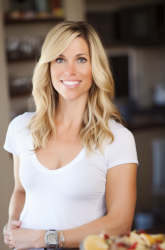 Latest posts by Jessica Moore
(see all)