If you have ever started to cook a meal only to find out you don't have all the ingredients or cookware required, you know the type of frustration this can deliver. 
The best-case scenario is that you waste a couple of minutes running around your kitchen, and the worst is that your dish ends in total disaster.
As such, you'll want to dedicate time to organizing your workspace and planning your cooking process to avoid any kitchen troubles.
In the culinary world, this is known as "Mise en Place", a French word meaning "everything in its places".
While this may sound simple, it is vital for the success of your kitchen and is a skill even the most talented chefs must master.
With this in mind, this guide will explore everything you need to know about mise en place and how you can implement it in your kitchen.
Let's get started.
What Is Mise En Place?
In restaurants, different cooks are assigned different workstations – each with a particular function. One cook may spend a whole shift grilling steak, making salads, or sauteing vegetables.
As such, each cook is responsible for one component of a meal – as opposed to the whole dish. This creates laser-sharp focus.
One way to ensure this is with mise en place. This ensures that their station has all the ingredients and tools they require in order for easy access – minimizing extra steps and wasted movements.
For instance, here, you'll find a container with minced garlic, chopped herbs, diced onions, and squeeze bottles containing oil. Not to mention spatulas, tongs, and spoons all laid out for easy reach.
How To Achieve Mise En Place
1. Before You Start Cooking, Study Your Recipe
The first step is to thoroughly read over your recipe – you don't even want to think about turning on your stove yet.
Here, you'll want to create an organized list of all the ingredients you need for each recipe – making a note of the amount and each cut (for instance, cubed, julienne, minced, etc) required.
For instance, if you're working with two different recipes that both require garlic – one recipe may need two tablespoons of minced garlic while the other requires half a cup of thinly sliced garlic.
Therefore, making a list of all the ingredients you need ensures that you don't need to make any last-minute dashes to the grocery store.
2. Create a Game Plan
Instead of spending a lot of time preparing the ingredients for each individual recipe, bulk the ingredients you're working with for your various recipes. Here, you can prep the different portions and cut them all at the same time.
For instance, instead of mincing garlic, chopping celery, and grating carrots for your first recipe – and then slicing garlic, dicing celery, and julienning carrots for your second recipe, you can group these ingredients together and prepare them at the same time.
Therefore, you can grate and julienne the required amount of carrots for each recipe as opposed to moving to the next task and having to clean your tools and waste precious time by jumping back and forth between recipes.
3. Collect Your Tools and Ingredients
Once you have delivered an effective game plan, you can then gather all the ingredients and tools you need to start cooking.
Instead of rummaging through your drawers trying to find your vegetable peeler, citrus press, and wooden spoon while cooking – you can spare yourself the hassle by laying out all your tools beforehand.
One of the best things about mise en place is that all the tools and ingredients you require should be in a container or a small bowl at your disposal.
In restaurants, you'll typically find 1/9 "hotel" pans or deli cups, however, small reusable bowls make for the perfect, at-home solution.
As you're making your environment mise en place ready, make sure to keep your ingredients in small containers, to keep them organized and ready to go.
Moreover, sheet trays can be beneficial in separating the prepped ingredients for each individual recipe.
4. Clean as You Go
When you have finished preparing all your required ingredients and tools, it is time to start cooking.
While preparing your workstation for mise en place may sound time-consuming, the more you perform the task, the easier it will be – you'll find yourself ready to cook in no time.
A great way to minimize the amount of time you spend on cooking a meal is to clean up as you go as opposed to leaving it to pile up at the end.
Rather than placing all your dishes into the sink, take a pause between takes to quickly rinse and clean your dishes or place them in the dishwasher when you can.
Likewise, once you have used a specific ingredient, put it back in its designated place once you have finished using it.
Plus, collect all your scraps in a large bowl to ensure your counter is free for easy disposal.
5. Avoid The Kitchen Juggling Act
While cooking, you may find the next step creeping up on you faster than you expected. Therefore, you'll want to avoid getting caught off guard and overcooking your dishes while performing last-minute prep work. Instead, rely on your mise en place skills.
Before long, you'll look like a television cooking professional, whereby you're effortlessly reaching for the chopped and pre-portioned ingredients for your recipe(see also: 2 Ingredient Pizza Dough (I Swear!) & 2 Pizza Recipes).
Not to mention, you'll spare yourself the trouble of having to quickly chop up your ingredients when the next step in the cooking process calls for it.
Once you have mastered the skills of mise en place, you'll be as cool as a cucumber in the kitchen in no time thanks to your efficient prepped-ahead and organized spread.
Mise En Place Examples
Below, we have outlined how to apply mise en place in your kitchen.
Professional kitchens – Chefs use mise en place to organize and prepare their ingredients and tools.
Hibachi style cooking – Hibachi chefs use mise en place to cook on a large, open surface with various ingredients.
Washing fruits and vegetables – Here, following mise en place ensures that all your produce is in its required place.
Cutting fruits and vegetables – Mise en place can be used to prevent cross-contamination. Plus, it ensures you have everything you need to cook with.
Cutting meat – Whether you're preparing cuts of pork, beef, or any other protein – following mise en place ensures it is all prepared and ready.
Gathering supplies – This ensures that chefs are able to work as efficiently as possible, you don't have to worry about rummaging for equipment.
Final Thoughts
Kitchens can already be stressful environments as they are, however, without proper techniques and rules set in place – they become a nightmare!
One way to avoid this is with mise en place. This is a simple yet effective term that refers to everything in the kitchen having a designated place.
This helps to avoid any potential mishaps and precious time wasted as all your ingredients and equipment are prepared and organized.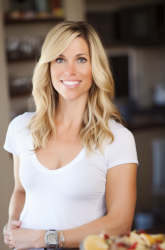 Latest posts by Jenna Hansen
(see all)