Between the convenience of urban eating— and the inconvenience of living in 250 sq. foot apartment— a well-balanced meal usually means not knocking over my wine glass while ordering Seamless. So it's safe to say that cooking for myself, let alone entertaining, hasn't been a priority for a long time.
Since I have spent the last two years moving, when the last box was officially unpacked, the urge to throw a celebration was real. An elaborate celebration— like hosting a Thanksgiving!— seemed to be just what the masochist in me was craving. After a few hours of overenthusiastic researching, my visions of impressive spreads and feasts fit for kings were quickly replaced with the reality of how large an undertaking it actually was. But since the invites were already sent out, there was no turning back.
Well, not only did I pull it off but it was actually quite lovely, if I do say so myself.  Want to host a dinner party in the comfort of your own shoebox? Here are some ways to keep it disaster-free at the very least.
First and foremost, my personal golden rule. It applies to most things in life and this is no exception:
Don't Bite Off More Than You Can Chew (unless it's pizza).
This goes for the menu selection, the guest list and the to-do lists you make and probably plan on completing last minute.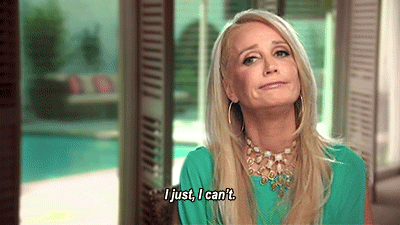 HINT: There's never enough time day-of!
Don't wait until last minute to do the laundry and prep the veggies and make the pie crust and clean the bathroom and cut the cheeses and pick up more wine and powder your nose!
Create a Menu That Fits The Bill (…because you have bills, remember?!) Pick recipes that require a lot of the same ingredients and don't choose ones that call for ingredients you've never even heard of. This also goes for practicality (see golden rule above). Do what seems doable.
I made turkey meatballs as the main dish because not only is cooking a bird intimidating to me, (especially since my tiny oven was currently winter boot storage) but I don't even really care for the turkey, or gravy for that matter! I hear this breaks some kind of rule about being an American or something, but whatever. (Recipes provided toward bottom!)
Use What Ya Got… During the menu decision process & for the seating arrangements & all the other times you'll need to get creative!   
Top left: I removed the junk on top of my dresser to make space for a bar. Top right: I didn't have proper knives or enough serving dishes, but turns out a crafting razor does the trick. And that decor bowl previously used as a catch-all for keys, etc.? A lovely way to serve mashed potatoes. Bottom left: For the table, I simply flipped over a storage box, put a shelf on top, and covered with a tablecloth. Voila!

HINT: If you, too, open your cupboards to find them resembling your savings account (read: empty), make like a pilgrim & go out in search of other resources there for the taking, and make them your own! (Editor's note: Do not steal. My pilgrimage consisted of going to Brooklyn to "borrow" a few staples from my bf.)
Take Advantage of Living in a Big City! One of the most glorious trade-offs for living in a crammed space is the ability to have anything you need within minutes! Forgot to pick up carrots? Run out of paper towel? Anything can be delivered! Need to put up shelves last minute? No time to clean your pad? Hellllo, ever hear of TaskRabbit?
I became
obsessed with my handyman (right) and now we're such good friends, he was even there to fold my clothes (and then hide them in the shower) before guests showed up. Which brings me to the..
Guest List! 
You don't really have a choice other than to keep it exclusive, so choose wisely! I originally invited more guests, and it was to my luck that some couldn't make it considering I forgot to check my supplies list AKA someone had to eat their salad with a spoon…
Still don't know who to invite?
Above all, pick people who you're truly grateful to have in your circle —after all that's what Thanksgiving's all about. And because it's such an intimate setting by default, don't bring people together that don't have ANYthing in common, or that could potentially go at it. (Tip: Avoid that Trump supporter when the majority is pretty liberal.)


I knew those on my guest list would hit it off as much as they'd be willing to help me day-of (this is important!) For example my list: Danny: my handyman, artist; see above obsession. Amelia: my soul-sister, writer; obligated, plus she has hair like Pocahontas. Sean: my SO, a true gentleman; often shows up with boxes of Cannoli; most-likely to volunteer to eat salad with a spoon.  
If you're worried about stinking up your small space, simply boil some cinnamon sticks for the entire duration to mask pesky odors like garlic & create a welcoming ambience.

For easy cleaning, remember to wash as you go, and use tin foil on any pans.
Don't forget to check the oven a couple days later just in case you forgot about something in there (like the roasted veggies…woops!)
Tis the season. Click here or here to give back to those not as *lucky* as we are. I also handed out leftover doggy-bags to my street's resident homeless peeps. 
---
RECIPES:
---
Slow Cooker Cranberry Stuffing: I came across this recipe and it fit the bill. You can't have Thanksgiving without stuffing or cranberries, in one form or another. I used regular buns + fresh bagels (pulled apart), rather than the specific brand of breading it called for. Also nixed some ingredients: leeks, sausage, parsley. Tip: Save this meal for day-of and your place will smell amazing all evening. 
Slow Cooker Garlic Mashed Potatoes: This seemed genius considering I don't own an electric mixer….until I realized one was still necessary. I had to chop up the potatoes manually to make mixing it after they were softened easier. Also, did I mention I don't own any knives? I used my crafting straight edge razor (it was sanitized, don't worry!) Lesson learned: read recipes thoroughly prior to the night of.
Pistachio Goat Cheese Ball:  How could I not have a version of this recipe at the party? Goat cheese > everything. I ditched the garlic, because enough already. And I also accidentally forgot to add the cranberries and didn't chop the stachios' up nice and fine. It was still bomb.


Slow Cooker Turkey Meatballs: This was my first time making meatballs and using a crock-pot and my first attempt at a recipe for this venture. So, I followed the recipe verbatim. All ya gotta do post-ball prep is set it & forget it and since meatballs freeze really well— it's one thing out of the way, making this a winning choice.

Because it seemed so easy-peasy, I showed up to my boyfriend's after he allegedly had "the worst day of his life" but it was the only time I had to make these; and also I had to use his crock-pot; and also could he please help me because I can't cut onions or garlic properly. After I realized I misjudged his participation willingness, I tried to compensate with the bottle of wine I brought.  "That's nice, but looks like you only brought enough for yourself?"
Touche, George.

Autumn Spinach Pecan Salad: I picked this recipe to base the salad off of because I either already had all of the ingredients, or would be using them in some of the other dishes chosen for the evening. I ditched the mustard and onions, and also ended up serving with an additional store-bought vinaigrette.  


Happy Thanksgiving To You & Yours!